Nickel alloys: Inconel®, Monel® and Hasteloy®
For a long time, nickel was seen as a worthless by-product of a copper mine. But nowadays, nickel and its alloys are widely used in various demanding markets. We're not only looking at the application in semiconductors, aviation and petrochemicals, we're also discussing a concrete case involving a special product: a fireworks fountain.
Nickel ore would easily be mistaken for copper ore and that's where the name comes from. German miners held certain spirits, Nickeln, responsible for this. Like cobalt, they would cause confusion.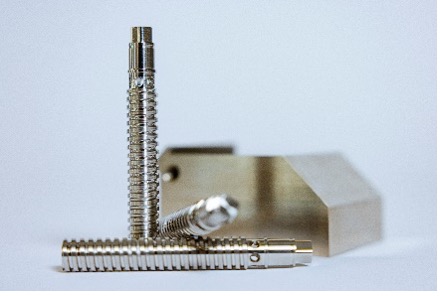 caption: Parts made of a nickel alloy
Use of Nickel
Approximately 65% of the global production of nickel is used in stainless steel and 20% in other steel and non-ferrous alloys. The remaining 15% is for Nickel plating using the galvanic method or applications such as electronics. Metel is particularly interested in the 20% steel and non-ferrous alloys, which are important for specialised industries such as aerospace, military applications and other industries because of their special properties. It pays to discuss this separately for each market.
Application of Nickel in the market
We offer suitable applications for Nickel in various markets. Is your market not listed or would you like to know more about using Nickel for a particular application? Please contact us on 0416 724 800 or send an email to n.kesteloo@metel.nl.
Nickel in semiconductor
The semiconductor industry is forced to dramatically improve its performance every so many years. New technology comes with its own set of preconditions and challenges for which nickel alloys provide part of the solution in certain cases. For example, the use of nickel alloys is essential in the application of lasers. The high heat resistance combined with strength make these high-performance metals an important building block for the next generation of machines.
Nickel in aviation
In aviation, nickel is mainly used in the parts that get overheated, the parts that are close to the engine. There are certain Titanium alloys that can withstand temperatures up to 800 ˚C, with certain Nickel alloys providing heat resistance up to 1,400 ˚C!
This is a complex issue for the aviation industry because the specific weight of Inconel 625®, for example, is equal to steel (+/-8 g/cm3), while Titanium has a specific weight of 4.5 g/cm3. Engineers therefore try to manufacture as many parts as possible from light metals, because this benefits fuel consumption. Inconel alloys ® are therefore only used for parts where the heat resistance or strength (Inconel alloys ® are, for example, stronger than Titanium) is crucial.
Nickel in petrochemicals
Nickel alloys are also widely used in petrochemicals. Not so much for combustion, but in the piping. The highly corrosive, aggressive liquids go through piping made from, for example, Inconel® 625 or Hastelloy® C276, which is more and more commonly used today. This last alloy has a high chemical resistance. If these pipes were made of stainless steel, the pipework would need to be replaced annually. By using the right nickel alloy instead of stainless steel, the service life can be drastically improved. This prevents plant delays or downtime, which more than compensates for the higher costs of the nickel alloy.

Nickel in the offshore industry
The offshore and energy industries are special environments when it comes to metal because of the presence of salt with its corrosive properties. In these environments, nickel alloys such as Monel® 400 or K500 are used to minimise corrosion insofar as possible. The improved service life, and thus the reduction of maintenance work, are the main reason for using the nickel alloys in this market. For a nuclear power plant, for example, Metel supplied Monel® K500, which was used for a grid that filters the cooling water (seawater) before it enters the plant.
Nickel alloys
A number of important or frequently requested alloys for Metel's customers are:
Inconel® 625
Inconel® 718
Hastelloy® C-276
Hastelloy® C-22
Nickel 200-201 (pure Nickel, highly magnetic for example for battery packs)
Monel® 400
Monel® K500
Invar 36
An essential aspect in choosing a particular nickel alloy is the machinability. How easy is it to process a certain alloy and what hardening processes can be carried out on it, for example? Through our website you will find various datasheets with this information. You can also contact us directly, we will tell you everything about the alloys that suits your application.
Metel advises and supports
Due to the Dutch ban on fireworks at events and festivals, a Dutch company decided to specialise in safe special effects such as confetti, flames and sparks. The company grew along with the Dutch dance industry and now supplies its products worldwide. A well-known product of the company is a perfect and safe alternative to fireworks fountains. You will undoubtedly have seen them at a concert or event.
Our customer was faced with a challenge during the development process. The machine had to be able to produce sparks for a certain time during a show, but the existing distributor, made of stainless steel, had to be replaced too often due to the excessive temperatures. The customer's engineers consulted Metel about the ideal material to be used and tested various alloys before we came up with Inconel® 625. As a result, the component became much more resistant to heat (up to 1,100 degrees) and its service life increased by a factor of 5. At the same time, the team also worked on the design of the distributor to further increase the reliability of the machine. Possibilities opened up as a result of using the correct nickel alloy.
Curious about the advantages of working with Metel? Our team will be happy to tell you all about our programme or our approach and will be glad to share examples of successful partnerships with customers who operate in your specific market. Make an appointment by calling 0416 – 724 800 or send an email to n.kesteloo@metel.nl.